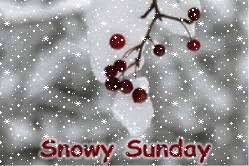 Since we enjoy taking pictures of all the snow we get we thought it would be fun to see what kind of fun you have in the winter. If you don't get snow but want to join us with pictures of your snowmen or other winter decorations, please feel free to do so. We are going to post our winter pictures every Sunday morning and hope you will join us.


The first 2 pictures were taken on Wednesday morning in our backyard.


We have almost 2 feet of snow in town already this year.


These pictures were also taken on Wednesday. We took a drive out in the country where Chris hunts. There are some areas where the snow is waist deep.


You can tell that this is a "heavy" snowfall by the way the trees are bending over the road.

Please feel free to use the button we have made for "Snowy Sunday" in your post or sidebar.

Sign up below using Mr. Linky by entering your name and the Permalink from your "Snowy Sunday" post. Your name will be added to the link list so that others can visit your blog.