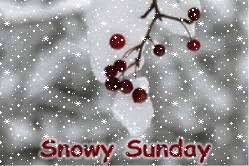 Welcome to Snowy Sunday!
Here are a few Pine Tree pictures we took. We thought they would be appropriate for this weeks post since we are only 11 days away from Christmas.


This one was taken a few weeks ago. A few days after we took the picture Chris went to go hunting and noticed that the bent over Pine Tree had snapped right off from the weight of the snow.


Don't these woods look inviting for a nice winter walk???
If you feel like joining in on "Snowy Sunday" but don't have any snow right now feel free to post old pictures or your winter decorations.
Please feel free to use the button we have made for "Snowy Sunday" in your post or sidebar.

Sign up below using Mister Linky by entering your name and the Permalink from your "Snowy Sunday" post. Your name will be added to the link list so that others can visit your blog.