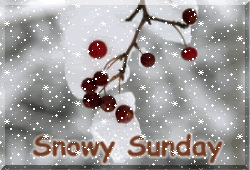 Believe it or not we are having a thaw here in western New York. The thaw is causing damage in a lot of areas around us due to flooding. It got up to 60 degrees here on Saturday. The pictures we are posting are from earlier this month.
These birds seem to be having fun playing in the snow.


They were flying back and forth from the road to the field. We think they were eating the salt and sand on the edge of the road.


They were probably trying to find anything else they could eat too. There was a lot of snow at the time.


Please feel free to use the button we have made for "Snowy Sunday" in your post or sidebar.

Remember if you don't have snow and still want to join in you can post your winter decorations.
Sign up below using Mister Linky by entering your name and the Permalink from your "Snowy Sunday" post. Your name will be added to the link list so that others can visit your blog.