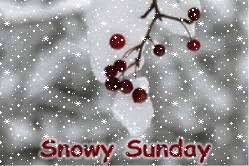 These pictures were taken a week ago Wednesday when we had a lake effect snow warning. We got about 2 feet of snow with in 24 hours.
We may get the same kind of weather here again today according to the weather forecast for our area.
Lake effect snow showers and a few squalls. Areas of blowing snow. Additional accumulation 3 to 5 inches in persistent bands. Windy and turning colder with temperatures falling into the teens. West winds 20 to 30 mph becoming northwest. Chance of snow near 100 percent.
Sign up below using Mr. Linky by entering your name and the Permalink from your "Snowy Sunday" post. Your name will be added to the link list so that others can visit your blog.