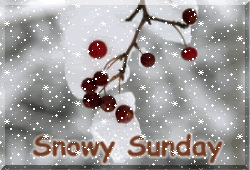 Welcome to Snowy Sunday. If you don't have snow but would like to join us by showing your winter decorations please do.

Our pictures this week are of Chautauqua Lake. This is the lake that is closest to where we live. Do you know what those spots are out on the lake?
Lets get a little closer. How about now?


Can you tell yet?


Yep, that's a man sitting on a bucket.
Ice fishing ~ not a sport for me!


Not even like this. This guy is in an Ice Shanty. The outside of it says "Ice Cube". That is what I would feel like if I was out there.


Please feel free to use the button we have made for "Snowy Sunday" in your post or sidebar.
Sign up below using Mister Linky by entering your name and the Permalink from your "Snowy Sunday" post. Your name will be added to the link list so that others can visit your blog.