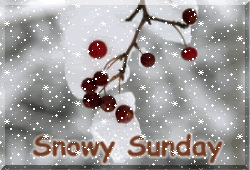 We have been getting hit with lake effect snow since Wednesday. We have close to 2 feet of new snow and it is still coming down.
Before it got too bad, Chris and I went for a picture taking adventure.


Some of the areas we went had very little snow, while others already had too much. That's lake effect snow for you. In some areas it was snowing so hard that we couldn't even get pictures.


Sign up below using Mister Linky by entering your name and the Permalink from your "Snowy Sunday" post. Your name will be added to the link list so that others can visit your blog.