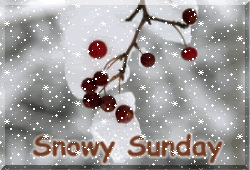 On our last day of vacation this fall we got up in the morning to 30 degree temps in Lake Placid. While driving around to get a few more fall pictures we ran into some snow.
This picture is of the famous Whiteface Mountain. People actually ski down this mountain in the winter. By the time we got here to take pictures it had stopped snowing and only the mountain top was covered.


Here is a close up of Whiteface. Below are some of the other high peaks taken from the Adirondack Loj Road.
Please feel free to use the button we have made for "Snowy Sunday" in your post or sidebar.
Sign up below using Mister Linky by entering your name and the Permalink from your "Snowy Sunday" post. Your name will be added to the link list so that others can visit your blog.