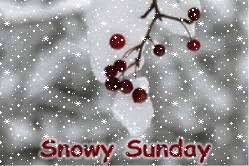 This weeks pictures were taken the last time we had freezing rain. It is horrible if you have to drive on it, but everything looks so beautiful after it gets done.
The ice almost looks like it is magnifying the buds on the tree.
Please feel free to use the button we have made for "Snowy Sunday" in your post or sidebar.
Sign up below using Mister Linky by entering your name and the Permalink from your "Snowy Sunday" post. Your name will be added to the link list so that others can visit your blog.